Florida Schools & Liability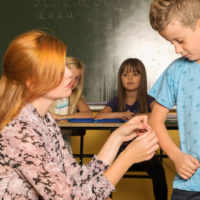 With the recent passage of a bill allowing school boards to vote to arm teachers in Florida schools, more and more people have begun to discuss the general issue of liability at school. Children are not normally discussed as plaintiffs in civil lawsuits, but they have the same rights as adults in most situations, and in some, they have more. If you are concerned over something that has happened to your child, or you worry about the future, contacting a Florida personal injury lawyer may be a good idea.
Schools Are Not Always Safe
Statistics from the Centers for Disease Control (CDC) show that our children, especially high schoolers, face unprecedented amounts of risk in school today. Around 8 percent of those responding to Florida's High School Youth Risk Behavior Survey said that they had been in a physical fight on school property or threatened with a weapon on school property in the last 12 months. 14 percent reported being bullied at school, and 10 percent reported skipping school at least once per month due to feeling unsafe there (or on the way to and from school).
While the average person likes to think that no harm can come to their child in school, this is unfortunately not the case for far too many students. School shootings are obviously in the news, but even aside from extreme cases of violence, injuries and harm are possible. Events like fighting in school or being bullied can lead to serious physical and emotional injury, even though many parents and educators are prone to write them off as insignificant. For disabled students in particular, harm can even come from their own teachers, such as being improperly restrained or confined to a 'seclusion room.'
Proving Liability
If you believe that another student or a school employee has injured your child or allowed your child to be injured due to negligence, you must be aware of your options and of the specific nature of the injury before trying to progress with any kind of lawsuit. Under Florida law, schools and their employees are very often immune from negligence suits from parents or any other taxpayer, under a principle called sovereign immunity – basically, the government or any of its agencies cannot be sued by the citizens, unless the suit meets one of a few narrow exceptions. It is possible to initiate a suit against a school, but very often, it is not actually necessary to do so.
For example, if your child was injured in a fight with another student, it may be more fruitful to attempt to bring that student's parents into any proceeding. Florida does have parental liability laws, or it may be possible to hold them criminally liable for furnishing a weapon to a minor. Alternatively, you may be able to bring suit against the school or an employee under a different legal theory besides negligence. One scenario seen recently is bringing suit against an employee caught mishandling or mistreating a disabled student – for example, the three 'educators' charged with first-degree felony child abuse after locking special needs children in a dark bathroom and blowing whistles into their ears may also face intentional tort liability from their victims' families.
Contact A Tampa School Injury Lawyer
Even if you believe that suing the school board would not pass muster in your case, there are other options you may be able to use to seek justice for your child. The Tampa personal injury lawyers at the Rinaldo Law Group are well versed in this area of law, and we will put our experience to work to try to get the fairest outcome possible for you and your family. Contact us today at 813-831-9999 to schedule an appointment.
Resources:
iheart.com/content/2019-01-30-florida-educators-accused-of-torturing-autistic-children-as-punishment/
sun-sentinel.com/news/florida/fl-ne-legislature-approves-school-safety-20190501-story.html