Legal Differences Between Sober Homes & Rehab Centers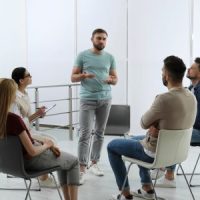 In recent years, Florida has seen a massive boom in its addiction treatment industry, with millions of people seeking out the Sunshine State as a positive environment to focus on getting clean. Substance abuse rehabilitation facilities are omnipresent, and sober homes help to provide a middle step between inpatient care and graduation. However, if you are in the market for addiction assistance, it is crucial that you understand the differences between sober homes and rehab facilities, as the two owe very different levels of care.
Different Licensing Requirements 
Substance abuse rehabilitation facilities are considered medical facilities in Florida (if properly licensed), and are subject to the same rules as any medical facility would be. At least part of its staff is medically trained and must uphold the same degree of "care, skill, and treatment" as any other "reasonably prudent" medical professional, but even the staff that is not licensed must observe the duty to protect their patients from reasonable harm. Failure to do so is actionable.
Sober homes, by comparison, are 'halfway houses' of sorts that are intended to ease people from rehab facilities – which exert a significant amount of control over the individual – and the total freedom of normal life. In Florida, these facilities are not as well regulated as they should be – as of this writing, there is no licensing requirement; anyone can simply elect to open a sober home – and while in theory, a sober home owes its paying patients the duty to make the premises safe, this fails to happen with alarming regularity.
If You Suffer Harm
If you are injured in a rehabilitation facility, and it is due to the negligence of a staff member or the facility itself, you have the right to seek redress. You can do so based on different potential legal theories – either negligence itself, medical malpractice on the part of staff, or under a concept called premises liability, among others. Premises liability establishes a duty of care on the part of a property owner or operator toward their visitors, and the duty owed to paying visitors (such as patients) is the highest and most stringent.
By comparison, the duty of care owed by a sober home is lower; while its inmates are generally paying patients, a sober home is not a medical facility. Depending on the nature of your case, you may be able to establish liability, but it is not easy to determine who might bear responsibility. Contacting an attorney who is well versed in these kinds of issues is generally a good idea.
Call A Tampa Substance Abuse Rehab Facility Attorney 
If you are in need of help for addiction issues, it is important to know your options, and to know what your rights are depending on the facility. Calling a Tampa treatment center negligence attorney can help answer some of your questions, and the Rinaldo Law Group has experience with these kinds of cases. Call our offices today for a free consultation.
Source:
leg.state.fl.us/Statutes/index.cfm?App_mode=Display_Statute&URL=0700-0799/0766/Sections/0766.102.html