Jackknife Accidents On Florida Roads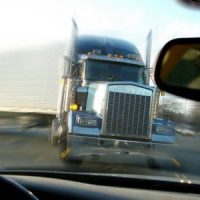 There are several types of accidents involving Florida tractor-trailers, but jackknife accidents generally get the most press, simply because they can cause the most havoc. A jackknife crash involves the two halves of a tractor-trailer losing communication with each other, often winding up going in opposite directions like the two halves of a jackknife. Because of its unpredictable nature, a jackknife accident is likely to cause serious injury or even death – if this has happened to you, a knowledgeable attorney can help you know your options.
Serious & Sudden
The Federal Motor Carrier Safety Administration (FMCSA) estimates that only 3.5 percent of fatal truck crashes are of the jackknife type, but that small amount is still disproportionate to the number of tractor-trailers on the road. It is also remarkable to note how relatively few jackknife crashes result in injury – the implication is that the crashes are either minor enough to not cause injury at all, or severe enough to result in fatalities.
These crashes are so insidious because there are a variety of ways that a jackknife can occur, and most of them happen very quickly. Events like blown tires or hydroplaning on wet roads can happen fast, and the driver then has little time to react. In addition, once a jackknife is happening, it is all too easy for a driver to lose control – if one tries too hard to reunite the two halves of the truck, the brakes can lock up and cause yet more problems.
Who Is Liable?
If you have been injured in a jackknife accident, it can be difficult to know how to proceed. If the tractor-trailer is a commercial vehicle, you have the right to file suit against both the driver and their employer – a concept called vicarious liability holds that if the behavior of the driver meets certain criteria (for example, being within the scope of employment, and at least partially in furtherance of their employer's business), their employer can be held liable for their acts. If the truck is government-owned, pursuing liability will look somewhat different.
In addition to the employer, there may be other possible defendants, depending on the circumstances of your accident – for example, the crash may be linked to poor maintenance, and the person performing any recent maintenance might wind up on the proverbial hook. Defendants can be 'joined' to a case in progress as well, if your attorney's investigation of the accident turns up new leads. If you believe that your accident was due to the negligence of another person, contacting legal help should be the first thing you do.
Call A Tampa Tractor-Trailer Accident Attorney
Due to the sheer size and speed involved in jackknife accidents, the injuries an accident victim sustains can be severe or even life-threatening. A Tampa tractor-trailer accident attorney from the Rinaldo Law Group can help to get you the compensation you deserve for what you have been through. Contact our office today at (813) 831-9999 for a free consultation.
Source:
fmcsa.dot.gov/safety/data-and-statistics/vehicles-table-17-large-trucks-crashes-jackknife-occurrence-and-crash-6