Accidents Involving Rideshare Cars In Florida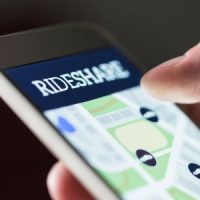 While there have been several growing pains in establishing them in the region, rideshare services like Uber and Lyft are in Florida to stay. However, this means that more cars are on the road, and accordingly, there is a higher risk of auto accidents. If you are involved in a car crash with a rideshare driver, be advised that there are a few extra steps to verify before you can file a personal injury claim – but it is very possible to file suit and prevail if you have been injured on a rideshare.
Can I File Suit At All?
Florida has a no-fault system for auto insurance, which means that all drivers in the state must carry no-fault insurance (both personal injury protection and property damage liability) and use it to file claims in the event of an accident. In a normal vehicle accident in Florida, an injured plaintiff can only file suit if their injuries are "significant" and "permanent;" if they are not, they must use their no-fault coverage to try and pay their medical bills.
With a rideshare car, the state's no-fault systems do apply, meaning that your injuries must be 'significant and permanent' in order to be able to file suit instead of relying on your own PIP coverage. However, if your injuries do meet that threshold, you should be able to file a personal injury lawsuit, but the nitty-gritty details of your situation will be the ultimate determination of who the defendant(s) in your lawsuit should be. The question of timing matters quite a lot in terms of establishing liability.
The Driver's Status Matters
If you are involved in an accident while in a rideshare car, or as a pedestrian struck by a rideshare car, know that you have the right to file suit against the person that caused your damages, regardless of whose vehicle it was. However, if your injuries are serious enough to allow you to file suit, know that just naming the rideshare driver as a defendant may not be the proper course of action. The question of responsibility in a rideshare accident hinges almost exclusively on whether the driver was officially on a job or not.
Drivers are covered by what the state calls TNC (transportation network coverage) – but only when they are actively logged into the network's app and either en route to pick up a ride, or driving a fare to a location. If the driver is not logged in, courts have held that their own personal car insurance is in force, which will almost invariably be for a lower amount than TNC coverage, which has required minimums. It may be a good idea to try and file suit against the rideshare company for vicarious liability (in other words, holding the company accountable for the alleged wrongdoing of their driver), but this is not always successful.
Contact A Tampa Rideshare Accident Attorney
Ridesharing has been a boon to a lot of Floridians, but drivers and pedestrians must be aware of the potential dangers it brings. If you have been in an accident with a rideshare car, a Tampa car accident attorney from the Rinaldo Law Group can help to answer your questions and provide support through the legal process. Contact us today at (813) 831-9999 for a free consultation.
Resource:
flsenate.gov/Laws/Statutes/2020/627.737