Accidents With Uninsured & Underinsured Drivers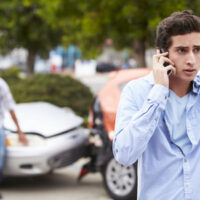 Unlike a majority of U.S. states, Florida still uses a no-fault system for auto insurance. Every driver with a vehicle that is registered in Florida must carry a certain amount of personal injury protection (PIP) insurance coverage, and if one is involved in an accident, they are supposed to draw on that insurance coverage as opposed to filing a lawsuit in court. That said, it can be difficult to figure out how to proceed if you are involved in a crash with a driver who has no insurance, or is underinsured. In these types of situations, consulting an experienced attorney may be a good idea.
"Reasonable Expenses"
In recent years, Florida has routinely posted a high percentage of drivers who are either underinsured, or lack auto insurance completely, despite the law requiring any registered driver to have it. Not only does this cause untold problems for anyone unfortunate enough to be struck by one of these drivers, it also actually costs taxpayers money in the long run to try and hold these drivers responsible for their failure to comply with the law. While it is understandable to have sympathy for those who cannot afford to maintain insurance, the price to taxpayers is too high, and the stakes too dangerous, to not hold these uninsured (or underinsured) drivers accountable.
The great alleged positive outcome of no-fault auto insurance is that if you are involved in an accident, you do not (in theory) have to waste time assigning blame or liability – you can simply file a claim with your insurer in order to get your medical bills paid. In reality, your insurer will pay a certain percentage of your bills, after which it can be a fight to get the rest of your expenses covered. Florida law on PIP coverage explicitly states that it must cover 80 percent of "reasonable expenses for medically necessary" care – which leaves quite a lot of leeway for denials.
Once PIP Coverage Is Exhausted
Once your PIP coverage is exhausted, you have two options to ensure the rest of your bills are paid, though you may only have access to one depending on the specifics of your situation. You may elect to use your own uninsured motorist insurance, if you have any; if you do, the resulting claim will be investigated by your own insurer and paid out as if it were a third-party claim (which may mean it will pay out more). Alternatively, if you do not have uninsured motorist coverage, you may file a lawsuit in the appropriate district court.
Filing a lawsuit is most people's last resort, but in reality, it is important to do so if your expenses have not been paid. State law allows accident victims to be compensated for the 'full value' of their damages, and if a lawsuit is the only way that one can do that, then it must be done. Even if an uninsured driver has no insurance, they may have assets that can be reached in order to arrive at a settlement. Every case is different, and the details can be a major reason to enlist an experienced attorney, so that you can be sure no stone is left unturned in determining how best to proceed.
Contact A Tampa Auto Accident Lawyer
Sometimes you will encounter a driver that does not have enough insurance, or has none at all, and it can be easy to fear that your bills will not get paid. However, Florida law takes care of accident victims, and if you have suffered injuries due to another person's negligence, the Tampa car accident lawyers at the Rinaldo Law Group may be able to assist you with filing your case. Contact our offices today for experienced and compassionate representation.
Resource:
flhsmv.gov/insurance/
https://www.tampainjuryaccidentlaw.com/who-is-liable-after-a-multi-car-crash-in-florida/