After A Tractor-Trailer Accident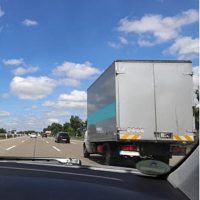 Auto accidents are an unfortunate fact of life in Florida, given the sheer volume of traffic on the state's roads. The accidents involving tractor-trailers can be among the most serious, simply because most of them will yield more serious injuries (if any occur). If you have been injured in an accident with a tractor-trailer, and you believe that the driver may have acted negligently, the moments immediately following the crash can make or break your chances at recovering compensation.
Must Be Reported – No Matter What
Florida law requires that any crash involving a commercial motor vehicle (a category which generally includes tractor-trailers) must be reported to law enforcement, even if there is minimal damage and no injury. Both the participants and any witnesses have an obligation to report the crash – failure to do so can actually result in criminal charges, because state law places a high premium on lifesaving and personal responsibility.
In 2021, there were between 32,000 and 33,000 crashes in Florida that involved a medium or heavy truck, with around 600 fatal or incapacitating injuries. This may not seem like much, but it is important to understand just how severe injuries can be after an accident with a tractor-trailer. Competent, prompt medical care can make the difference between getting one's injuries properly treated and suffering long-term damage.
Seek Information
In the moments immediately following an accident with a tractor-trailer, reporting the crash is one of the most important things to do. Another important thing to do is collect information – from the driver's contact information to photos of the accident, documenting anything that may establish your lack of negligence in the accident and your right to seek money damages for your injuries.
One particularly important piece of information may be the truck's Department of Transportation number. Tractor-trailers carry a number, issued by the U.S. Department of State, meant to identify them and their Event Data Recorder (EDR). An EDR can offer critical information about the truck's behavior in the moments before the crash. If you are seeking evidence of the driver's negligence, the EDR may be the most persuasive evidence you find.
Call A Tampa Tractor-Trailer Accident Attorney
Being involved in an accident with a tractor-trailer can completely derail a person's life. If you have been injured in this way, calling a Tampa truck accident attorney from the Rinaldo Law Group can help answer any questions you may have about where to go from here. Contact our office today for a free consultation.
Source:
leg.state.fl.us/Statutes/index.cfm?App_mode=Display_Statute&URL=0300-0399/0316/Sections/0316.066.html