Are Charter Buses Commercial Motor Vehicles?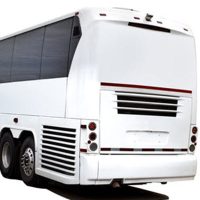 The definition of a commercial motor vehicle (CMV) in Florida is narrow, but it nonetheless covers quite a few types of vehicles. One that sometimes gets overlooked is the charter bus, which is becoming an increasingly popular way to get around the state. A charter bus does generally qualify as a CMV (with some exceptions), which in turn means that any accident involving a charter bus may involve a high duty of care – and compensation for the injured person.
Large Vehicles Generally Qualify
Florida defines a commercial motor vehicle as having certain characteristics: (1) a vehicle either weighing more than 26,001 pounds or having at least three axles; (2) uses 'special fuel or motor fuel' on the highways; and (3) is not owned or operated by a governmental entity. In addition, CMVs are registered and insured in very different ways than other large vehicles may be. Regardless, because of their weight and axle limit, CMVs tend to be large enough where any injuries they cause will often be significant.
Unfortunately, accidents involving CMVs – charter buses included – are not uncommon. The most recent available data from the Federal Motor Carrier Safety Administration (FMCSA) estimate that around 5,200 large trucks and buses were involved in accidents in the year 2019, with a higher proportional share of injuries and fatalities than passenger vehicles. There are several different possible reasons for this – one among them being that often, charter buses do not have seatbelts or other safety measures installed.
A High Duty of Care
If you are involved in an accident with a charter bus, know that if it qualifies as a CMV, seeking compensation may be slightly more involved than it would be otherwise – but it is eminently possible to do so. Accidents involving CMVs very often have more than one defendant – for example, a charter bus accident may result in being able to file suit against not only the driver, but also their employer, a parent company, or any third party that may have played a role in the accident.
In addition, a charter bus will often file under a law known as the common carrier law. In Florida, a common carrier owes the highest possible duty to its passengers, which means that a case against a common carrier will generally be judged more harshly than one against a standard company. This can work to your advantage, but it can also mean more details that must be handled in the appropriate manner.
Contact A Tampa Commercial Motor Vehicle Accident Attorney
Charter buses are a common way for people to get around the state of Florida, but they generally do qualify as CMVs, and accidents with CMVs can lead to serious injuries. If you have been involved in a CMV crash, contacting a Tampa truck accident attorney from the Rinaldo Law Group can help get any questions you may have answered. Contact our office today for a free consultation.