Bicyclists Face Danger On Florida Roads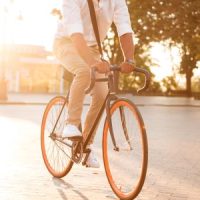 Florida's busy roads have to be shared by everyone – automobiles, trucks, pedestrians, and bicyclists, among others. However, some road users are better equipped to survive accidents than others. Bicyclists are among the least well equipped, which is why they account for a disproportionate amount of road injuries and fatalities. If you have been involved in a bicycle accident in Florida, consulting an experienced attorney can help get you through the legal process.
Disproportionately High Injury Rates
Statistics from the Florida Department of Highway Safety & Motor Vehicles (FLHSMV) show that around 6,000 bicycle crashes occurred in 2020, with 163 deaths and over 5,500 injuries. This may not sound like much, but on average, pedestrians and bicyclists make up a higher percentage of traffic deaths per capita than drivers of automobiles. This is largely because of the recklessness of auto drivers, rather than any fault of those with less protection on the road.
Though many Florida drivers are unaware of this, bicyclists have all the same rights as motorists on the road. The law defines them as vehicles in the same manner as automobiles, and this means, at least in theory, that motorists must treat bicyclists the same way as they would other cars or trucks. However, they very often do not – behaviors like failing to check for bicyclists in mirrors, turning too quickly, or driving aggressively can and do lead to serious injuries for non-motorists.
Getting Your Bills Covered
If you have been injured in an accident with another vehicle, you have the right to seek compensation for the harm you have suffered. That said, Florida has a no-fault auto insurance system, which means that if you are involved in an accident with an automobile and the injuries are not serious, you will generally be required to settle the issue by filing an insurance claim. If you own a car registered in Florida, you are required to carry at least $10,000 of personal injury protection (PIP) and $10,000 of property damage liability insurance, ostensibly to pay medical bills after an accident.
Florida law holds that PIP insurance must cover anyone hit by a vehicle, including bicyclists and pedestrians, as long as they are not the occupant of a 'self-propelled vehicle.' This can be yours or the allegedly negligent driver's insurance, depending on the specific facts of your case. However, if your injuries are "significant and permanent," you generally do not have to deal with insurers; in such a case, you can file suit against the driver for both the injuries you suffered and the damage to your bicycle.
Call A Tampa Bicycle Accident Attorney
Bicycling is everything from a way to get to work to a beloved hobby, but one must always be alert to potential dangers on the road. If you have been injured in a bicycle accident, the Tampa bicycle accident attorneys from the Rinaldo Law Group are ready and willing to try and answer your questions about filing suit. Call our offices today at (813) 831-9999 for a free consultation.
Resource:
leg.state.fl.us/statutes/index.cfm?App_mode=Display_Statute&URL=0300-0399/0316/Sections/0316.2065.html