Burn Injuries In Florida Accidents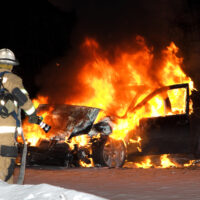 Few people think of burns as potential injuries that can be sustained in accidents. However, they are quite common, especially in automobile accidents, and they can be devastating especially if they cover a larger portion of your body. If you have been in an accident and sustained significant burn injuries, you need an attorney on your side who understands the potential severity of burns and the medical treatment you will need to manage them.
Survival Rate Is High, But So Are Complications
The American Burn Association (ABA) estimates that around 485,000 burn injuries that required medical treatment occurred in 2015. Roughly 40,000 required hospitalization, though this total does include approximately 3,200 deaths from fire and smoke inhalation-related causes. Statistics show that of the burn injuries that required hospitalization, almost three-quarters of them occurred in the home, though the next most common locations were on the job and in the street (including in automobile accidents). The survival rate for burn hospitalizations was high, at 96.8 percent, but this does not mean that long-term complications did not occur.
It is also worth noting that there is more than one type of burn, and that the types are all represented in hospitalization statistics. Fire and flame-related burns might have been the most common type seen in the ABA's statistics, but scald burns (for example, those sustained by exposure to steam or hot water), electrical and chemical burns are all seen as admission causes. Some types of burns are more likely to affect certain age groups – for example, very young children are more likely to experience scald burns than teenagers or young adults.
Seeking Compensation
The expenses incurred by a burn victim can be very high, from lost wages to medical bills incurred to pain and suffering, and it can feel overwhelming to try and seek compensation. If you sustained burns in an automobile accident, you are not permitted to bring suit against the (allegedly) negligent driver unless your injuries meet a certain threshold – generally, unless your injuries leave you with a "significant and permanent" injury or loss of bodily function. However, if your burns came about in another type of accident, you are generally permitted to bring suit against the person or people you believe were negligent and caused your injuries.
If you can bring suit, you will generally have to show four criteria before you have a chance to recover. You must show that a duty to exercise reasonable care existed for the defendant, and that that duty was breached. You must also show that the breach of duty was caused directly by the defendant's actions (or lack thereof), and nothing else – in other words, that there was no other intervening cause – and you must also tangibly show that you suffered harm that could be compensated. If any one of these criteria cannot be shown, your chances to prevail in court are slim to none.
Contact A Tampa Burn Injury Attorney
Because burns are so serious, injury cases that involve them require an experienced and dedicated attorney who has handled these types of matters before. The Tampa burn injury lawyers at the Rinaldo Law Group can sit down with you and try to answer any questions you may have, and help you decide how best to proceed. Contact our offices today for a free consultation.
Resource:
ameriburn.org/who-we-are/media/burn-incidence-fact-sheet/
https://www.tampainjuryaccidentlaw.com/wrongful-death-in-florida-2/