Can A Trucking Company Be Liable For A Tractor-Trailer Accident?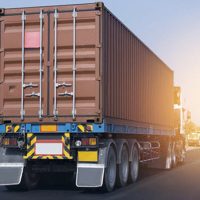 There are countless possible reasons for a tractor-trailer accident in Florida, from poorly maintained roads to driver negligence, and in many cases, factors combine. That said, one potential cause that is often overlooked is potential culpability on the part of the trucking company. Employers are generally held vicariously liable for the torts of their employees – in other words, the employer is responsible for the acts of his employees as long as he is 'on the clock' – but actions taken (or not taken) by the trucking company can make enough of a difference to render it liable in its own right.
Product Liability
Perhaps the most common way that a trucking company may be held at least partially liable for a tractor-trailer accident in its own right is if the tractor-trailer – or one of its constituent parts – experienced a mechanical breakdown that caused the crash. While a driver is generally asked to keep their vehicle in good shape, it is their employer who is responsible for maintenance and inspections. The Federal Motor Carrier Safety Association (FMCSA) has metrics for both, meaning that a vehicle must be maintained and/or repaired a certain number of times per year. Failure to do this can render an employer liable.
In addition, an employer or even a manufacturer may be able to be held liable for a crash if it can be shown that the truck had a defective part. Florida law holds that a person injured by a defective product can bring a claim against either the manufacturer or a distributor (depending on the specific nature of the incident), though it must be brought within four years of the accident.
Negligent Hiring
The other way that a trucking company may be held liable for its part in a tractor-trailer accident is via the concept of negligent hiring or negligent entrustment. Negligent hiring is a tort (essentially the civil law equivalent of a crime) in which an employer allegedly fails to do their due diligence in hiring a person, who then injures a third party – the presumption is that if the employer had done a better job checking on their employee's background, they might not have hired them, and the accident might have been averted.
It is important to keep in mind that if a trucking company or any other employer satisfies certain criteria – for example, if they conducted a background check and turned up no evidence of unreliability – Florida law states they will be presumed to have done their due diligence in hiring. However, if you can establish that the trucking company did nothing of the kind, you may still be able to argue negligent hiring as a basis for liability.
Contact A Tampa Tractor-Trailer Accident Attorney
Being involved in a tractor-trailer accident can result in life-changing, serious injuries. If you have been so unlucky, contacting a Tampa truck accident attorney from the Rinaldo Law Group is a good first step toward getting the compensation you deserve. We can offer knowledgeable and compassionate representation – contact our office today for a free consultation.
Source:
fmcsa.dot.gov/safety/passenger-safety/inspection-repair-and-maintenance-motor-carriers-passengers-part-396