Can I Sue A Florida Funeral Home For Negligence?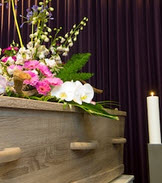 When you lose a loved one, you want to give them an appropriate send-off and ensure that they have the resting place they deserve. However, sometimes the funeral home you choose will make mistakes, or in rare cases, may even deliberately act in a way that causes harm and distress to your family. If the remains of your loved one or the ceremonies to lay them to rest are disrupted in a way that is negligent or malicious, Florida law generally allows you to try and recover damages for what you and your family have been through, though it is a good idea to enlist an experienced attorney to help.
Negligence Creates Emotional Distress
A bereaved family generally engages a Florida funeral home to prepare the remains of their loved one for burial or other forms of disposal (such as cremation), and to provide services like purchase of urns or coffins and setting up appropriate religious or secular ceremonies. However, there are several points where negligent or even malicious behavior may occur. Whether due to lax protocols, laziness, or something worse, funeral homes do sometimes fail to honor the contracts they sign with bereaved families, causing mental, emotional, and sometimes financial distress.
That said, it can be difficult to determine if what you have been through rises to the level of negligence in a legal context. Some examples that qualify in Florida include:
Mishandling or abusing a corpse;
Failing to abide by the so-called 'funeral rule,' which states, among other things, that bereaved families must be able to select and pay for only the goods and services they want instead of being forced to buy a package;
Failing to provide the services required by Florida licensure laws; and
A general failure to honor the agreement made with the family of the deceased.
In particular, abuse of a corpse is seen as egregious. It can actually lead to criminal charges if the behavior can be laid at the door of an individual. However, even if the behavior is not criminal, it may still be outrageous enough to warrant punitive damages for the plaintiff (that is, damages designed not to repay losses, but simply to punish the defendant).
Filing Suit
If you and your family have experienced the violation of your loved one's remains being mishandled or abused, Florida law establishes that you can file suit against the funeral home. The deceased person's surviving spouse, children, or parents may file the suit, as well as anyone listed in the deceased person's will as being entitled to the estate in that will. They can seek damages for any irregularities in the bills – for example, if they were overcharged – as well as potentially for negligent (or intentional) infliction of emotional distress and for the mental anguish you suffered. They may also seek disciplinary proceedings against the funeral home.
Establishing negligence under Florida law is fairly straightforward, particularly if a written agreement exists that establishes a duty of care owed by the defendant to the plaintiff. Generally, a funeral home owes a duty toward the plaintiff to exercise reasonable care in fulfilling their side of the agreement. In order to establish negligence, the plaintiff has to show that the duty was breached, and that it was breached specifically by the defendant's actions (or failure to act). Actual damage to the plaintiff has to be established as well – more than just mere cuts and bruises or a fright. This is never easy for solely mental or emotional injuries, but it is not impossible.
Call A Tampa Funeral Home Negligence Attorney
Losing a loved one is one of the most difficult events that a person can experience. Having that stress and grief compounded by your funeral home's negligence is nothing anyone should have to bear. The Tampa wrongful burial & cremation attorneys from the Rinaldo Law Group can offer compassionate and knowledgeable representation at a time that is already difficult. Call our offices at (813) 831-9999 for a free consultation.
Resource:
consumer.ftc.gov/articles/0300-ftc-funeral-rule