Driver & Passenger Escape Injury In Flagler County Accident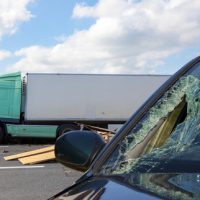 Accidents happen every day on Florida's highways, but when a tractor-trailer is involved, the potential for serious injuries or even death is higher. In July 2023, an accident on I-95 in Palm Coast could have ended very badly, as a car had lost control and wound up on the other side of the highway. A tractor-trailer struck the vehicle, crashing and spilling a small amount of "hazardous materials" – but the driver and passenger of the car were not inside. Had they been, the accident's outcome could have been far more dire than it was.
Crashes Less Frequent, But More Serious
Data from the Florida Department of Highway Safety & Motor Vehicles (FLHSMV) shows that while the overall number of trucking accidents in the state was relatively low, it is disproportionately high given how many large trucks are on the road at any given moment. In addition, injuries from a tractor-trailer accident are more likely to be severe, compared to those sustained in other accidents – the sheer size and weight of a tractor-trailer compared to that of an ordinary car or pickup truck may make that difference.
In the Flagler County accident, the tractor-trailer struck the rear end of a vehicle that had lost control, originally driving south, but eventually winding up in the northbound lanes after hitting the guardrail. A rear-end collision between a large truck and a small car can lead to many different outcomes, from damage to the vehicle to injuries or death for the vehicle driver and any passengers – but in general, there will be far less damage to the tractor-trailer.
If You Are Injured
While both the car's occupants and the tractor-trailer driver in Flagler County were thankfully unhurt, this may not be the case if you have been involved in this type of accident. Injuries in a large truck accident may range from soft tissue damage to broken bones to permanent brain or spinal damage. Regardless, it can be difficult to determine whether filing suit against a negligent tractor-trailer driver is worth the time and trouble, given that in most cases, trucking companies are well defended.
That said, it is still generally worth it to try and seek compensation from the truck driver or their employer if you believe their negligence caused your injuries. You have the right to try and hold the person who injured you accountable in court, particularly if your injuries are severe and overcome Florida's 'severe injury threshold.' The right attorney on your side can help protect your rights.
Contact A Tampa Tractor-Trailer Accident Attorney
While no injuries were reported in Flagler County, it is important to understand that tractor-trailer accidents can cause serious harm. A Tampa tractor-trailer accident attorney from the Rinaldo Law Group can help guide you through the process of trying to hold the defendant accountable. Contact our office today for a free consultation.
Source:
clickorlando.com/traffic/2023/07/13/tanker-crash-shuts-down-i-95-in-flagler-county/