DUI In Civil Court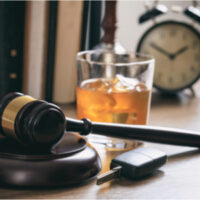 Driving under the influence in Florida is a crime, and it is generally sentenced quite severely, especially if property is damaged or someone is injured. However, what many are unaware of is that regardless of the outcome of the criminal trial, you are able to file suit against a drunk driver after its conclusion, to try and recover your damages. These types of cases can be complex, but it is very possible to prevail, especially if you have an experienced attorney on your side.
Can I File Suit?
The average person will think that filing a civil suit is simply a matter of executing the right paperwork, However, Florida is a no-fault insurance state, which means that instead of most accident cases going to trial in civil court, injured people are expected to use their personal injury protection (PIP) insurance to help pay their medical bills (or the other driver's insurance, if necessary). Every Florida driver must carry at least $10,000 worth of coverage, and it will cover 80 percent of all "reasonable expenses for medically necessary" care in most situations. You can only file suit if you have sustained a permanent injury, or at least an injury whose bills have totaled more than $10,000.
If this does apply to you, you may be able to file suit, but you must still have evidence that the (alleged) drunk driver was responsible for your injuries. The mere state of being under the influence does not necessarily entitle you to damages; there must still be sufficient cause to show that the drunk driver's actions were the direct cause of your injuries. That said, you may not want to file suit because you believe yourself partially liable – this does not bar recovery in Florida. It is generally worth trying to recover for the harm you have suffered.
Civil vs Criminal Trials
Generally, if someone has committed a crime that may also be civilly actionable, the civil case will take place after the conclusion of the criminal trial, because a criminal trial has a higher burden of proof ('beyond a reasonable doubt' is the highest possible standard, while civil courts use much lower benchmarks). This means, however, that evidence which is admissible in the criminal trial will generally be admissible in civil court, which can help cut down on the amount of work that will have to be done to present your case.
Normally, in an auto accident case, the object is to establish that the defendant was negligent, and that their negligence was the direct cause of your injuries. In a DUI civil case, any evidence used to help find the person guilty in criminal court will generally be admissible to help prove that they were negligent. In addition, the doctrine of negligence per se can often be used to find someone who is guilty of breaking a law civilly liable – in other words, in DUI cases, if someone has been found guilty of breaking Florida's drunk driving laws, this can be used to establish negligence with very little further evidence required.
Contact A Tampa Auto Accident Lawyer Today
Being injured by a drunk driver can be an especially difficult thing to go through, especially since the accident may be no fault of your own. The Tampa car accident attorneys at the Rinaldo Law Group can offer compassionate and experienced representation for you and yours during this difficult time. We are happy to try and assist you. Call our office today for a free consultation.
https://www.tampainjuryaccidentlaw.com/floridas-no-fault-auto-insurance-system-explained/