Florida Trucker Killed In Tire Failure-Related Crash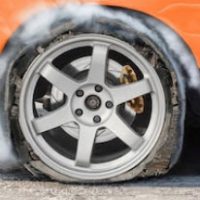 In early August 2023, a Florida man was killed in a truck accident in Nevada, when the right front tire on his vehicle burst, causing it to overturn. While this appears to be nothing more than a tragic accident, it is unfortunately not uncommon for drivers to lose their lives due to failures in their vehicles. Product liability is a common cause of vehicle accidents, and if a tractor-trailer experiences an event like a tire blowing, it can endanger not only the driver, but other road users as well. Had the truck driver survived, he might have been able to file a product liability claim against the tire manufacturer.
Product Liability Causes Injury
It is not uncommon for a traffic accident to occur as a result of product failure, whether a component of the vehicle, or the vehicle itself. Filing suit under a theory of product liability can be done based on one or more of three main theories: (1) design defect, meaning that the inherent design of the product was flawed; (2) manufacturing defect, meaning that the individual product in the case was faulty; and (3) failure to warn consumers of potential dangers, which is fairly self-explanatory.
Large trucks are not immune from these mishaps, but if they occur on large trucks, the fallout can be more severe, simply because larger trucks are much heavier and can cause much more serious injuries if they are involved in a crash. In addition, more parties tend to be involved in product liability cases that involve large trucks – the driver, the defendant, the truck company, and so on. These cases are winnable, but they can be quite complex and time-consuming.
File Quickly
If a product – whether a defective tire or a faulty steering column – caused you injury, you have the right to file suit against the manufacturer of the item. However, what many do not understand is that it is possible to have multiple defendants in the same case, if you believe that they all carry responsibility for the harm you suffered. It is not uncommon, for example, to seek damages from the seller of a defective product as well as the manufacturer.
Be advised that as of June 2023, Florida has lowered the statute of limitations from 4 years to 2 years, ostensibly in the interest of tort reform. While this may not sound like a major change, it can go by in the blink of an eye – and if an injured person does not meet the filing deadline, they forever lose their chance to file suit. The sooner one is able to file their case, the better – and with the right legal help on their side, the process will usually go more smoothly.
Call A Tampa Truck Accident Attorney
While there was nothing to be done for the unfortunate gentleman who lost a tire in Nevada, you may have more options if your car – or a part of your car – plays a part in your injuries. A Tampa truck accident attorney from the Rinaldo Law Group can help to answer any questions you may have about your options. Call our office today for a free consultation.
Source:
msn.com/en-us/autos/news/florida-man-killed-as-crane-truck-overturns-due-to-tire-failure/ar-AA1g43A4