Florida Uninsured Motorist Coverage After An Accident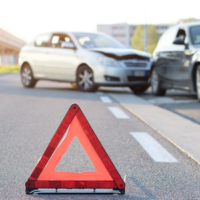 Florida is a state in which most automobile accident cases are settled via insurance claims, rather than filing suit in the requisite civil court. However, a driver's personal injury protection insurance coverage is not always sufficient to get one's medical bills paid after a crash. Uninsured or underinsured motorist coverage (UIM) can bridge that gap in some situations, but it is crucial to understand its role in order to use it properly.
PIP Coverage Often Not Enough
Despite a statewide system which mandates a certain level of personal injury protection (PIP) insurance coverage and property damage liability (PDL) coverage, as many as 20 percent of Florida drivers lack the required insurance, for a variety of reasons. Florida's auto insurance system is no-fault, which means that instead of filing suit against an allegedly negligent driver, an injured plaintiff can file a claim, using their PIP coverage, to recover for their medical bills and for tangible damages like lost wages.
That said, there are some hidden factors that can leave an injured person with a stack of medical bills that their PIP coverage may not pay for. For example, in order to take advantage of PIP coverage, one must seek medical treatment within 14 days of their accident. If you do not, you cannot access that coverage, which can leave you in a difficult position. Another fact to be aware of is that even if you seek to use your PIP coverage within the time frame required, it will only cover 80 percent of all "reasonable expenses for medically necessary [care]." If your injuries are severe, this can pose a serious problem. With these facts at issue, uninsured motorist coverage can be vital for some.
Stacking Coverage May Be Necessary
If your injuries are severe enough where your PIP coverage is not sufficient, and the driver who struck you lacks insurance, uninsured motorist coverage is designed to bridge the gap in this type of situation. Uninsured and underinsured motorist coverage can cover several different types of expenses, including medical expenses, lost wages, and even intangible damages like pain and suffering. This can be a significant amount of coverage if you are able to "stack" policies. In Florida, if you have more than one car, you can "stack" the coverage for both vehicles, which can effectively double the amount.
Your insurer is required to offer UIM coverage, by Florida law – but they will very often try to avoid explaining just how important it is. In addition, you are not required to accept it. That said, if you do not want this coverage, you must reject it in writing, which means that many more people actually have UIM coverage than they may be aware of. It is important to keep in mind what options you may have if you have been injured; failure to use any insurance coverage at your disposal can have long-lasting consequences.
Call A Tampa Car Accident Attorney
Unfortunately, one cannot prevent accidents – one can only try and be prepared for accidents to happen. If you are involved in a car crash, calling a Tampa car accident attorney from the Rinaldo Law Group is a good idea. Our attorneys can help you understand the legal process and guide you through the questions that appear. Contact our offices today for a free consultation.
Resource:
orlandosentinel.com/business/os-bz-florida-uninsured-drivers-20210326-e5uaifm3izh3vpsj3obw7udnfy-story.html
https://www.tampainjuryaccidentlaw.com/non-economic-damages-in-florida-personal-injury-cases/