Good Samaritan Is Killed In Road Crash After Stopping To Help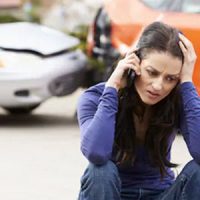 In mid-June 2022, a woman was killed on Florida's State Road 113 while trying to assist the driver of a crashed car. A man driving a pickup had been struck by a hit-and-run driver, and the 'Good Samaritan' pulled over onto the side of the road to see if he was injured. A third car failed to see the wreck in time, and slammed into the pickup, killing the woman and critically injuring the man. Accidents like these can be very difficult for survivors to process – while no amount of money can bring a deceased loved one back, it can help to pay medical and funeral expenses.
Who Is Liable?
Florida is a no-fault state for purposes of auto insurance. What this means is that every driver must carry at least $10,000 in personal injury protection (PIP) insurance, as well as $10,000 in property damage liability (PDL) insurance, and use that coverage to pay for any minor injuries sustained in vehicle accidents. This is intended to cut down on the number of minor lawsuits clogging Florida district court dockets.
That said, Florida law lifts this tort immunity and allows injured plaintiffs to sue the (allegedly) negligent driver or entity if they have sustained injuries that are "significant and permanent." In the State Road 113 case, the man in the pickup was 'critically injured,' which would allow him to file suit against the third driver who crashes into the already-existing wreck. This would also apply to the woman's next of kin, at least in theory, who could bring a wrongful death lawsuit against the driver.
Percentage Of Fault Matters
If you have been in an accident involving multiple vehicles like this, it can be difficult to determine who should be held liable (that is, who should be a defendant in your case). It is possible to file suit against more than one potential defendant, but be aware that Florida has abolished joint and several liability, which means that each defendant, if found liable, will only be responsible for the percentage of the damages that are assigned to them.
This also holds true with regard to a plaintiff's percentage of fault – if you are held to have been partly responsible for your own injuries, you will not recover for that percentage of fault. For example, if you file suit against two defendants, and they are held to each be 40 percent liable for your injuries, with you having been held 20 percent responsible for your own injuries, each defendant would pay 40 percent of the award, and you would not recover for that 20 percent of fault.
Contact A Tampa Auto Accident Attorney
While any charges stemming from the State Road 113 accident have yet to be made public as of this writing, know that the fallout from these multi-vehicle crashes can be complex and emotionally draining to handle. A compassionate Tampa car accident attorney from the Rinaldo Law Group can help guide you through what can be a difficult time for you and your family. Call us today for a free consultation.
Source:
charlotteobserver.com/news/nation-world/national/article262464387.html