Has Your Child Been Injured Due To Someone Else's Negligence?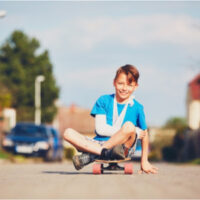 It is most parents' worst nightmare to see their child seriously injured, and if your child has been injured due to another person's negligence, that can feel even worse. The anger and fear can be overwhelming, and it can feel either pointless or greedy to try and bring a lawsuit against the person whose behavior caused your child to be harmed. However, with a dedicated attorney on your side, you can focus on your child's recovery while your suit goes through the courts.
Causes & Requirements
There are far too many potential causes for child injuries, most of which can exist both at home and outside it. Examples include failure to secure a pool area, dangerous or faulty playground equipment, abuse or neglect by family or daycare workers, accidental poisoning, and falls. In Florida, the leading cause of death for children under age 5 is drowning, but falls are a very close second. Statistics collated by Stanford Children's Health show that approximately 12,000 children (aged 1-19) die each year from unintentional injuries and accidents.
Generally, in order to establish that someone is negligent, you must be able to show that they owed the injured plaintiff a duty of care, and that the duty was breached. You must also establish that the breach of duty was the direct reason (with no other intervening cause) for the injuries your child suffered. It is worth noting as well that the standard of proof in a civil case is much less than in a criminal case, meaning that you do not have to prove your case beyond a reasonable doubt.
How Can I Help?
While childhood always carries its share of cuts and bruises, those injuries tend to be no one's fault, or in some cases, the child's own, depending on their age and their level of curiosity. If your child is injured because someone else was reckless or negligent, you have the right to try and hold them accountable under Florida law. Because minors cannot file lawsuits on their own behalf, you as a parent may file as "next friend," which is a legal status that allows a person to act in court on behalf of a minor or otherwise legally incompetent person.
You are also in the best position to be aware of whatever damages that your child and your family have sustained in the wake of the accident. While a personal injury lawsuit can recover tangible damages like medical bills or lost wages (especially if you take time off work to care for your child), you may also be able to recover for more abstract harms – for example, pain and suffering, or loss of quality of life. It may require the testimony of medical experts to establish this kind of loss, but it is important – you and your family deserve to be able to focus on your child's recovery instead of having to worry about keeping the lights on at home.
Call A Tampa Child Injury Attorney
If your child has been injured because of someone else's actions (or lack thereof), enlisting an attorney can be of great help in determining what to do from here. You need a dedicated and compassionate Tampa child injury attorney to try and answer your questions and come up with a game plan so that your family can find some closure. The Rinaldo Law Group has years of experience in these cases. If you need help, call our offices today for a free consultation.
Resource:
stanfordchildrens.org/en/topic/default?id=accident-statistics-90-P02853
https://www.tampainjuryaccidentlaw.com/knocked-off-your-bicycle/