How To Stay Safe On The Road During Snowbird Season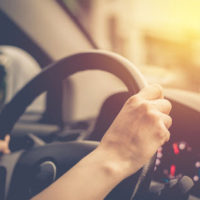 Every winter, Florida plays host to between 700,000 and 1,000,000 temporary residents, referred to as "snowbirds" since they are fleeing cold temperatures up north. While snowbirds provide an often welcome boost to the Sunshine State's real estate and tourism industries, they can sometimes cause problems as well. This is especially evident on the road, since snowbirds may not be familiar with Florida's driving laws. If you live in Florida year round, there are ways you can decrease your odds of being involved in an accident, especially with someone who may not know how things are done here.
Uninsured Motorist Coverage Is Essential
One common issue that appears with snowbirds is that many are unaware of Florida's auto insurance requirements, especially if it is the first year they have made the southern trip. Florida is a no-fault state, meaning that every driver is required to carry insurance (rather than every vehicle – the insurance policy travels with the driver instead of the car). The minimum acceptable amounts are $10,000 in personal injury protection (PIP) and $10,000 in property damage liability (PDL) per driver, and this must be in force as long as you have at least one vehicle with a Florida license plate. Many snowbirds, especially those who do not hail from no-fault states, remain unaware of these requirements until it is too late.
While you obviously cannot control what other people do, it is a good idea to make sure that you have underinsured or uninsured motorist coverage (UIM) on your own policy. In theory, if you are in an auto accident in Florida, the other driver's insurance policy will pay for your medical bills and lost wages. However, Florida has the second highest number of uninsured drivers in the United States, meaning that if you are in an accident with one of these drivers, there is no policy to take advantage of. Having UIM coverage on your own policy means that you are protected even if another driver has not done their legal duty.
Keep Your Cool!
The other critical piece of advice often offered to Florida drivers during this season is to avoid driving recklessly or negligently themselves, as a snowbird may not know how to appropriately react if they are not familiar with the pace of Florida roads. It can be very easy to give in to impatience on the road, or to cut a few procedural corners if you are on a familiar road or running late. While this is inadvisable in general, it can be even more dangerous with snowbirds on the road.
Going with the flow of traffic is a good general rule to follow – if someone is driving too fast or too slow, it may be possible to get around them, but it is critical to do so in a legal and safe manner. If you try to pass someone on the road and make a mistake, either you or they (or both) may wind up injured, and such an act would possibly render you liable for any injuries they suffered, especially if they are severe. While most of the time, suing a driver who hits you is not permitted in Florida – injury claims are intended to be handled through insurance companies – there is an exception made for severe injuries. One reckless decision may render you liable for another driver's injuries – and given the potential monetary cost, it is simply not worth it just to pass a snowbird who may be driving too slow in the left lane.
Can A Personal Injury Attorney Help You?
Auto accidents are always a possibility in such a busy state as Florida, but there are always things you can do to lessen your chances of being involved in one, whether you are a snowbird or a longtime state resident. If you have any questions about driving in Florida, or you have been in an accident, contacting an experienced attorney is a good idea. The Tampa auto accident lawyers at the Rinaldo Law Group are happy to try and assist you. Call us today at 813-831-999 for a free consultation.
Resources:
sun-sentinel.com/opinion/commentary/fl-viewpoint-driving-20160608-story.html
news.ufl.edu/archive/2006/12/snowbirds-and-sunbirds-cause-big-shifts-in-floridas-older-population.html