Injured Children In Florida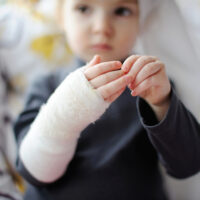 A parent whose child has been injured is very often going to be frustrated and frightened, unsure of what options they might have to protect their child's rights. In Florida, a parent is able to file suit on behalf of their minor children, and try and hold a negligent actor liable for the injuries that their children have suffered. If you are in this position, it is understandable to want answers and guidance as soon as possible, and an experienced attorney can help to provide them.
Multiple Causes For Childhood Injuries
Getting hurt is part of childhood, and no child grows up without incurring some bumps and bruises. However, serious injury can and does happen, with many of the same causes recurring. For example, falls are the leading cause of nonfatal injuries for children, with injuries incurred after being struck by or against an object being next most common. Fatal injuries, by comparison, were most often caused by motor vehicle-related trauma. If one breaks it down by age group, though, the causes differ; for example, the leading cause of injury death for children aged 0-4 is drowning.
Many child injuries happen at home, but a significant portion occur in public or semipublic places, and many parents are not aware of what rights they and their children may have until they need them. If your child is injured due to another person's negligence, you do have the right to try and find them liable for the injuries, including medical expenses, lost wages (you may have to stay home and take care of your child), loss of quality of life, and mental pain and suffering.
Bringing Suit
In order to establish a case for negligence against the person you believe harmed your child, you need to show a number of things in court. You must show that the defendant (1) had a duty to exercise reasonable care toward the plaintiff; (2) breached that duty; (3) with their actions (or lack thereof); and (4) causes harm. In other words, you must establish that the defendant acted recklessly, and did not adhere to even the minimum of care with regard to the plaintiff. You must also show that the defendant's actions caused tangible harm to the plaintiff.
If your child has been injured, it can be tempting to not file suit in the matter, because you may believe that your child totally or partially caused their own injuries. However, Florida law holds that even if you (or your minor child) are held to be partially responsible for your own injuries, this does not necessarily bar recovery. Your award, if the jury finds in your favor, will be reduced by your percentage of fault, but you are still able to recover monetary damages for the harm you or your child have suffered.
Call An Experienced Tampa Child Injury Lawyer
Children get injured regularly, but if the harm happens because of another person's negligence, it is important that that person be held to account. The Tampa child injury lawyers at the Rinaldo Law Group can sit down with you and plot out a course to give you and your child the best chance of getting life back on track. Contact our office today for a free consultation; we are happy to try and help.
Resource:
leg.state.fl.us/statutes/index.cfm?App_mode=Display_Statute&URL=0700-0799/0768/Sections/0768.81.html
cdc.gov/safechild/child_injury_data.html
https://www.tampainjuryaccidentlaw.com/summer-in-florida-can-be-dangerous/