Minor Injuries & Car Accidents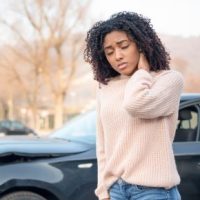 When a person is involved in an accident, it is likely that they may suffer injuries of varying severity. If the accident happened due to the negligence of another driver, the injured person generally has the right to seek money damages for what they have been through – however, in Florida, that right is slightly curtailed depending on how serious a person's injuries are. If you have questions or concerns about recovering for your injuries, calling an attorney can help get them addressed.
Be Aware Of Time Limits
Florida follows a no-fault auto insurance system, meaning that every driver in Florida is required to carry a certain amount of personal injury protection (PIP) insurance and property damage liability (PDL) coverage, with which they are expected to pay their own medical bills if they are involved in a minor crash. State law holds that PIP policies must cover 80 percent of all "reasonable expenses for medically necessary care," as long as the policy holder seeks medical care within 14 days of the accident.
That said, this time limit can be an issue for some people who experience what they believe to be minor injuries. Certain harms may not make themselves fully known for a long while after an accident – soft tissue injuries like whiplash are the worst offenders – and because of this, the window in which one can use their PIP coverage may pass before a person knows they are sufficiently injured.
Do Your Injuries Qualify?
If you have been injured in a Florida auto accident, the harm you suffered will no doubt feel very serious to you. However, Florida law has a definition of "serious injury," and if your injuries do not rise to that level, the state does not permit you to file suit against the negligent actor in court. Rather, you are expected to use your PIP protection (and any other insurance you may have) to cover your bills, after filing the appropriate claim with your insurer.
The relevant statute defines a serious injury as one that is "significant and permanent," such as the loss of a limb or a bodily function, scarring, or disfigurement. An injury that does not reach this threshold will not be considered serious enough to warrant filing suit. This may seem unjust, but it does not mean that your injuries are not real or worthy of compensation. The state legislature's rationale for such a system is not to discount injured victims, but to prioritize those who are injured most egregiously.
Call A Tampa Minor Injury Attorney
Being injured in an auto accident is a scary event for most people, but it can be just as confusing and frightening if you are told that you have no right to seek damages for what you have experienced. A Tampa personal injury attorney from the Rinaldo Law Group can help you determine your best course of action. Contact our office today for a free consultation.
Source:
leg.state.fl.us/Statutes/index.cfm?App_mode=Display_Statute&URL=0600-0699/0627/Sections/0627.736.html