Motorcycle Accidents On Florida Roads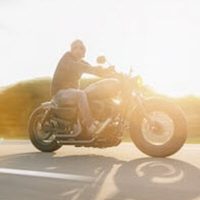 Florida has one of the highest numbers of motorcycle registrations in the United States, for a variety of different reasons. However, along with high numbers of motorcycles on the road comes a higher number of accidents involving motorcycles, and these crashes are more likely to cause severe, long-term injury than those involving only four-wheeled vehicles. If you have been injured in an accident while on your motorcycle, seeking compensation is your right, though it can be difficult to prevail in some cases.
Serious Injuries & Medical Bills
Statistics from the Florida Department of Highway Safety & Motor Vehicles (FLHSMV) shows approximately 8,000 motorcycle crashes occurred in 2020, with around 515 fatalities. This may not seem like much, but proportionally this rate is far higher than the one for auto accidents, for good reason. Drivers and passengers of automobiles have far more protection against injury than motorcyclists, who usually only have their helmets (if they choose to wear them) and whatever clothing they are wearing to protect them. If a motorcyclist is not killed in an accident, their medical bills will often be extensive.
Because of such significant medical bills, many motorcyclists choose to sue the person who allegedly caused their injuries – and in Florida, they are usually able to do so. One thing that you may not be aware of is that while Florida has a no-fault insurance system (which normally mandates that injured people seek compensation from their insurers, instead of in court), it only applies to four-wheeled vehicles. What this means for an injured motorcyclist is that you can usually file suit in court instead of having to make an insurance claim for your medical bills.
Can I File Suit?
If you have been injured in a motorcycle accident, and you believe that your injuries were caused directly by the negligence of another person, you have the right to file suit. However, depending on the nature of your situation, it may be difficult to establish negligence without the right evidence. A plaintiff must be able to establish specific criteria in order to hold the defendant liable – namely, that they were injured as a direct result of the defendant's actions, which constituted a failure to uphold an appropriate standard of care. Without witnesses, accident information and other records, these criteria can be hard to establish in court, but not impossible.
While no attorney should ever quantify any possible jury award, it is worth noting that if you prevail in your suit, as a motorcyclist who is not subject to Florida's no-fault insurance system, it may be possible for you to recover slightly more compensation than an automobile driver might from their insurer. The reason is that insurers are not required to cover intangible damages like lost future wages or mental pain and suffering, but they are sometimes recoverable in court. Every case is different, but given how extensive your medical bills may be, every bit can help.
Contact A Tampa Motorcycle Accident Attorney
Many Floridians enjoy riding their motorcycles, taking advantage of the state's beautiful weather. However, accidents can and do happen, and they can be quite severe. If you have been involved in a motorcycle accident recently, a Tampa motorcycle accident attorney from the Rinaldo Law Group can help answer any questions or concerns you might have about your situation. Call our office today for a free consultation.
Source:
flhsmv.gov/pdf/crashreports/crash_facts_2020.pdf