Pedestrian Hit and Killed While Crossing the Street in Tampa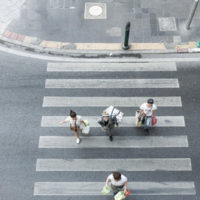 A woman was killed when she was hit by a car on 40th Street North near East Hanlon Street in Tampa, according to Fox 13 News. Unfortunately, this type of tragic accident is quite common in Florida.
According to the Miami Herald, deadly accidents involving pedestrians are at an all-time high in the Sunshine State. In fact, Florida had the highest rate of pedestrian deaths in 2016. Between 2014 and 2016, a total of 181 intersections in the state had 10 or more pedestrian-related accidents in that time span. Between 2009 and 2016, pedestrian deaths in the state rose by 40 percent, according to an article published in the Christian Science Monitor. 
Florida Trying to Take Action to Stem Rise of Pedestrian Injuries and Deaths
The Florida government is turning to engineers to try and figure out ways to reduce car-versus-pedestrian collisions. For many years, engineers were instructed to design public roads to handle as much traffic as possible. However, engineers have been directed to prioritize pedestrian safety. Engineers responded by making subtle changes such as modifying the standard lane-width on state roads, according to the aforementioned CS Monitor article. 
National Safety Issue
Deadly pedestrian accidents are not just confined to Florida. This is a serious safety issue in many states. For example, the number of pedestrians killed on roadways across the United States has increased dramatically over the years. For example, close to 6,000 pedestrians were killed in 2016, which is up from 4,100 in 2009. This is the highest number of pedestrian deaths since 1990, according to data released by the Governors Highway Safety Administration (GHSA). 
Take Legal Action to Hold Reckless Drivers Accountable
If you were seriously injured after being hit by a motorist while crossing the street, or you lost a loved one in a deadly collision, consider taking legal action to hold the reckless motorist accountable. If you were seriously injured, you can file a personal injury claim against the driver and their auto insurance company. The damages you can recover through this civil action include medical expenses, lost wages, and pain and suffering.
If you lost a loved one in an accident, you may be eligible to file a wrongful death claim. To be sure, the Florida Wrongful Death Statute allows survivors to pursue compensation against the negligent motorist that caused the crosswalk accident. 
Speak to a Tampa Personal Injury Lawyer Today
Accidents involving pedestrians pose a serious problem in and around Tampa. This is extremely concerning since pedestrians hit by motorists are often left badly injured or, even worse, lose their life. If you or a loved one was involved in such a collision, it is extremely important to get legal assistance sooner rather than later. A Tampa personal injury attorney can help you understand your rights to financial restitution.
The Rinaldo Law Group has three decades of experience helping victims of auto accidents and other complex personal injury cases. Let our team help you recover the financial restitution you deserve for your injuries. To schedule a free consultation, fill out the online form or give us a call at (813) 831-9999.
Resources:
miamiherald.com/news/local/article125588259.html
csmonitor.com/USA/2018/0516/Florida-addresses-pedestrian-fatalities-with-engineering-strategy
fox13news.com/news/local-news/pedestrian-killed-while-crossing-40th-street-in-tampa