Rear-End Collisions In Florida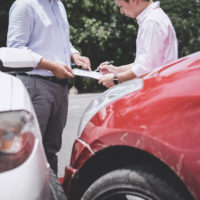 If you are injured in an automobile accident, it is always a difficult experience, but there are some types of crashes that are more likely to cause injuries and fatalities than others. One of the most dangerous types of auto accidents is the rear-end collision, which can cause long-term harm to anyone involved. If, however, you have been injured in a rear-end collision caused by another person's negligence, you may be able to receive compensation if you can prove the connection.
Causes & Statistics
Rear-end collisions happen when the front end of one vehicle strikes the rear end of another. The most recent available data from the Florida Department of Highway Safety & Motor Vehicles (FLHSMV) estimates around 835,000 crashes in 2018 where the first harmful event was striking a motor vehicle in transport. While it is not possible to specifically establish how many of those were rear-end collisions, it is worth noting that the National Highway Traffic Safety Administration (NHTSA) estimates as many as 28 percent of all vehicle crashes are rear-end, with all the attendant fatalities and injuries.
The causes of rear-end collisions are legion. Some of the more commonly seen include distracted driving, disobeying the rules of the road (for example, following too closely or ignoring stop signs or red lights), and mechanical failures in one's vehicle, such as faulty brakes. Most of the time, rear-end collisions occur because someone was negligent, whether one or both drivers or an outside actor like a mechanic. Establishing who was negligent specifically, however, can be difficult.
What Do I Do?
After an accident, it can be hard to know how to handle things, but the first thing you should make certain of after obtaining medical treatment is to determine who you may be able to reach for compensation. Florida is a no-fault state, meaning that instead of filing suit in court to seek compensation in personal injury cases, most are handled by the injured plaintiff filing a claim with their own personal injury protection (PIP) insurance. State law requires drivers to carry at least $10,000 in PIP coverage, as well as $10,000 in property damage liability coverage – though Florida does have a high percentage of uninsured drivers.
Most of the time, this means that if you are injured in a rear-end collision, your main avenue to try and get your medical bills paid is to file a claim with your own insurance. However, if your injuries are particularly severe, Florida law does permit you to file suit against the driver or other negligent party for damages. You must be able to establish that you sustained either a permanent injury, "significant and permanent" scarring or disfigurement, or the significant and permanent loss of an important bodily function in order to recover. Having an attorney on your side can be helpful in trying to meet this threshold.
Call A Tampa Auto Accident Lawyer Today
An auto accident is nothing to shrug off, but if you are involved in a rear-end collision, your injuries can be even more severe than in other types of crashes. The Tampa car accident lawyers at the Rinaldo Law Group can help you navigate the legal process and determine how best to get your medical bills paid. Call our office today for a free consultation.
Resource:
flhsmv.gov/pdf/crashreports/crash_facts_2018.pdf
https://www.tampainjuryaccidentlaw.com/florida-has-high-motorcycle-accident-numbers-year-round/