Reckless Teen Driver Kills Mother, Toddler Crossing the Street in Tampa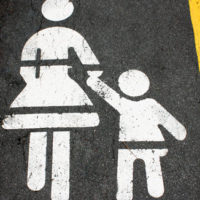 Reckless driving is extremely dangerous and can often result in significant injuries. A prime example is the heartbreaking news report of a 21-month-old toddler and mother who were killed when a speeding car slammed into them on Bayshore Boulevard, according to Patch.com.
Reports indicate that a 24-year-old mother was pushing her daughter in a stroller across Bayshore near Knights Avenue at a legal crossing from a pedestrian ramp when they were hit by a 2018 Ford Mustang. The Mustang was being operated by an 18-year-old who was drag racing a Nissan driven by a 17-year-old.
The two reckless drivers were arrested by Tampa police and charged with street racing, in addition to two counts of vehicular homicide, while a passenger in the Mustang was charged with one count of racing. 
Drag Racing on a Public Road is Never Acceptable
Our deepest sympathies go out to the family of the victims. This was a heartbreaking tragedy that could have been avoided if the reckless and irresponsible drivers involved in this deadly accident had acted responsibly.
Speed limits and traffic laws in Florida exist for an important reason – to regulate traffic and keep the roads and highways as safe as humanly possible. Racing on a public road or highway is dangerous, reckless, wanton and needlessly puts lives at risk. Why? Because racers travel at shockingly high rates of speed, weave in and out of traffic, ignore stop signs and red lights and may even drive into oncoming traffic, or hit pedestrians crossing the street. These reckless and irresponsible behaviors all increase risk of injury and death. The seriousness of an accident and traffic deaths are often amplified when high rates of speed are involved. Driving at high rates of speed not only increase your odds of losing control, but also add significantly to the velocity and overall impact when a collision occurs. These are just some of the reasons why drag racing on public roads is wrong and illegal. 
Holding the Driver Accountable for Their Actions
If you lost a loved one in an accident caused by a drag racer, consider taking legal action to hold them accountable. The Florida Wrongful Death Statute allows survivors to pursue financial damages against the reckless drive that caused the accident. This action can be brought against the driver, along with any criminal charges filed against the reckless motorist by the state. 
Contact a Tampa Personal Injury Lawyer Today 
An accident involving a speeding motorist cause serious injuries and loss of life, as seen in this tragic case. If you or a loved one was involved in such a collision, it's important to seek legal assistance right away. A personal injury attorney can help you understand your rights to financial compensation.
If you have been injured in a crash in Tampa Bay, we can help. Our dedicated attorneys at the Rinaldo Law Group have significant experience helping victims of auto accidents and other complex personal injury cases, and we are eager to begin working for you immediately.
Resources:
com/florida/southtampa/mother-dies-2-year-old-injured-while-walking-bayshore
leg.state.fl.us/statutes/index.cfm?App_mode=Display_Statute&URL=0700-0799/0768/Sections/0768.21.html