Texting & Driving In Florida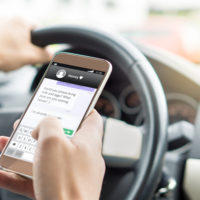 It is generally accepted nowadays that texting and driving a car is inherently dangerous, and can lead to serious accidents. However, not every state's law has caught up with this common knowledge, which means that it can be easy to get confused if you are on the road a lot. Know the statistics, and understand the real risks, lest you wind up with charges on your record that can harm your long-term prospects.
Distracted Driving Kills
Texting and driving is one of the worst forms of distracted driving, and it does kill. Statistics from the National Highway Traffic Safety Administration (NHTSA) estimate that approximately 1 in every 6 accidents that occur has a distracted driving component, with approximately 3,200 deaths occurred in 2017 due to distracted driving. Florida statistics are equally grim, with distracted driving-involved car crashes rising steadily in the last five years.
Despite these figures, many drivers – especially younger people – still tend to treat texting and driving as though it is a victimless crime, or that they are somehow immune to the potential consequences. Young drivers are most likely to use their cell phones while on the road, according to a study put out by the AAA Foundation for Traffic Safety, as well as being the most likely (as far as can be estimated) to report such behavior. Regardless of age, every driver should be aware of the dangers – statistics estimate that it is safer to have an elevated blood alcohol level than it is to text and drive, and there is no getting around that.
Is It A Crime?
It is important to understand that while texting and driving is not a crime (it is a traffic violation), it can be used as evidence in criminal or civil trials. Florida honors a common-law concept called negligence per se, and it essentially holds that if someone has broken a law designed to protect a certain class of people, and harmed someone of that class in doing so, then the defendant is negligent as a matter of law. If you text and drive, and then get in a car accident and injure someone, you have broken a law designed to protect other motorists and yourself, which means that you can automatically be assumed to have been negligent.
Keep in mind, however, that while texting and driving can be used as evidence against you in a trial, it is still only a secondary offense. This means that a law enforcement officer cannot stop you solely because they saw you texting while driving – they must stop you for a primary offense, such as speeding or an improper turn, and then they will be able to cite you for texting and driving.
Can A Tampa Auto Accident Lawyer Help You?
If you have been involved in an auto accident where texting and driving was a factor, you may be able to use that against a defendant who was being clearly negligent. The Tampa car accident attorneys at the Rinaldo Law Group can sit down with you and try to help you figure out what path to take so that you can get the compensation you deserve. Call our office today at 813-831-9999 for a free consultation.
Resource:
nhtsa.gov/risky-driving/distracted-driving
https://www.tampainjuryaccidentlaw.com/aggressive-distracted-driving-on-florida-roads/