Vaping Injuries In Florida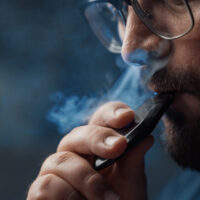 Over the past two decades, smoking has become a less acceptable practice in nearly every area, both public and private. In its stead, more and more people are vaping. However, vaping is not the harmless alternative that many believe it to be. In late 2019, the Centers for Disease Control (CDC) started to chart a pattern of lung injuries and deaths that are believed to be linked to vaping and e-cigarette use. If you believe that you have been injured as a result of using these products, it is important that you understand both your potential options and the current state of law surrounding this issue.
A Widespread Outbreak Of Illness
As of October 29, 2019, approximately 1,900 injuries and 37 deaths have been linked to e-cigarette and/or vape use by the CDC. As of this writing, no specific cause of this outbreak of casualties has been identified, and thus the CDC is grouping all related cases under the heading of "e-cigarette or vaping product use associated lung injury" (EVALI). More cases continue to come in; this pattern of injuries has been classified as an outbreak or epidemic. Individual reports from 24 states (including Florida) and the District of Columbia point to the widespread nature of the problem.
Few correlations have been identified between the different cases, or anything that might point toward a cause. The CDC has documented two relevant points: first, many vaping products tested by medical professionals have been found to contain vitamin E acetate, which has been linked to potentially deadly lung conditions. Second, products that contain THC (which is the chemical in marijuana that is most responsible for producing a 'high') have been used in almost every case – though not all – and it is possible to draw a plausible link between THC and the unidentified sickness or ailment causing injuries and deaths.
How To Sue
As of this writing, it is likely not possible to bring suit against the manufacturer of your e-cigarette or vape, simply because we do not have enough information to determine who might be liable. If you are injured because of a (potentially) dangerous product, you would bring a lawsuit based on a theory of product liability. A Florida product liability case can be brought under one of two legal theories – negligence, or strict product liability. The former is concerned with the actions of the people using the product; the latter is concerned with the product itself.
A case that involves a vaping injury or e-cigarette injury is likely to be brought under strict product liability, because if a vape or e-cigarette is used in the manner intended, it should not make people sick. There is no information that any of the reported cases of EVALI have involved deliberate misuse of the products – therefore the implication is that something in them is inherently dangerous. If a product is inherently dangerous – if it does not perform as safely as an ordinary consumer would expect when used as intended – its design is inherently defective, and subject to liability.
Call A Tampa Personal Injury Lawyer Today
While the proverbial jury is still out on the dangerousness of vaping products, it is important to know your options. If you have been injured, it is a good idea to speak to a Tampa personal injury attorney at the Rinaldo Law Group to determine what your next steps should be. We are happy to try and assist you with your case. Contact us today for a free initial consultation.
Resource:
washingtonpost.com/health/2019/09/05/contaminant-found-vaping-products-linked-deadly-lung-illnesses-state-federal-labs-show/
cdc.gov/tobacco/basic_information/e-cigarettes/severe-lung-disease.html
https://www.tampainjuryaccidentlaw.com/florida-burn-injuries/