Very Young Children In Florida Auto Accidents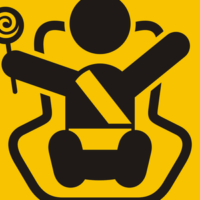 In Florida, children under 6 years of age must, by law, sit in a "federally approved" car seat or booster seat while in a vehicle. Failure to enforce this can open a parent up to fines and points on their driver's license, but more tragically, if a child is not properly restrained, it is more likely that they will be severely injured in any potential auto accident. If your child is injured in a vehicle accident, it can be overwhelming – but you may be able to file suit on their behalf, if the accident was due to the negligence of another person or entity.
Children Are Vulnerable
The Florida Department of Highway Safety & Motor Vehicles (FLHSMV) estimates that in 2019 (the most recent available data), there were approximately 36,200 children under the age of 5 involved in auto accidents, with roughly 1800 cumulative injuries and fatalities, while the leading cause of child death according to the Centers for Disease Control (CDC) is transportation-related injuries. Young children are profoundly vulnerable in auto accidents, particularly if not restrained as they should be.
Generally, children under 18 must be restrained while in a motor vehicle, but the appropriate restraint will differ based on the child's age and weight. Children under age 3 must use a car seat at all times, but children aged 4 to 5 may be able to use a booster seat if they are taller or heavier. That said, in general, it is important to remember that Florida's laws illustrate the minimum requirements to avoid getting a ticket; this does not mean that you cannot do more to ensure your child's safety.
Filing Suit For Your Child
If your young child has been in an accident, it is entirely understandable to think of nothing but their well-being; knowing your child has been injured can be a uniquely powerless feeling. However, if possible, it may be a good idea to investigate the possibility of filing suit against the person who (allegedly) caused your child's injury. Even if a parent was not involved in the accident that harmed their child, Florida allows them to file suit on their child's behalf as "next friend," because young children lack the capacity to sue on their own behalf.
Generally, injured children can recover the same types of damages as injured adults – medical expenses, mental trauma and emotional suffering, future loss of earnings or enjoyment of life, and so on. They must establish the same criteria as any other adult; namely, that the injuries they experienced were a direct cause of the defendant's breach of their duty to exercise reasonable care. And, like in cases involving injured adults, an experienced attorney on your case can increase the chances of prevailing on your claim.
Call A Tampa Child Injury Attorney
If your child has been injured in an accident, it is very easy to feel powerless, but you may be able to seek compensation for what your child has been through. A Tampa child injury attorney from the Rinaldo Law Group can offer compassionate and dedicated representation in what can be a terrifying time. Call our offices today for a free consultation.
Resource:
law.cornell.edu/wex/next_friend
leg.state.fl.us/statutes/index.cfm?App_mode=Display_Statute&URL=0300-0399/0316/Sections/0316.613.html
https://www.tampainjuryaccidentlaw.com/expert-witnesses-in-florida-medical-malpractice-cases/