Who Is Considered A Pedestrian On Florida Roads?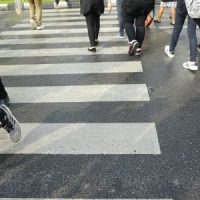 Florida state law describes pedestrians as people who are "afoot," but this can be confusing for the average person. "Afoot" implies only people who are walking qualify, but in reality, Florida recognizes people who use wheelchairs, skateboarding or rollerskating as pedestrians as well. If you get into an accident with a car or truck driver, and you believe that their negligence was the direct cause of your injuries, you have the right to seek money damages for what you have been through, regardless of your method of conveyance.
Florida Is Dangerous For Pedestrians
Florida has an unfortunate history of pedestrian accidents, ranking as one of the most dangerous states for those who walk. The sheer number of pedestrians contributes to the number of accidents – Florida is sunny and beautiful for much of the year, which means more people are out and about enjoying it. In addition, the state lacks significant pedestrian infrastructure, particularly in rural areas, which means that pedestrians must take chances they might otherwise avoid.
Florida does have a comprehensive system of laws designed to protect pedestrians – for example, pedestrians are required to walk or ride on sidewalks where possible, and if none is present, they must walk on the left side of the road, facing oncoming traffic. The exception to this rule is bicyclists, who qualify as pedestrians unless they are riding on the road (or in the bicycle lane), in which case they are treated as vehicles. Unfortunately, accidents still happen either because the laws are not observed, or because drivers are not careful enough to pay attention to pedestrians on the road.
Can I Recover PIP Benefits?
Florida is a no-fault state for purposes of auto insurance, which means that every vehicle owner must carry at least $10,000 in personal injury protection (PIP) benefits and $10,000 in property damage liability coverage. Instead of allowing lawsuits to be filed for minor injuries, Florida requires that these bills should be paid via making claims under this mandated insurance. If someone's injuries are severe enough, however, they will be permitted to file suit in the regular manner.
If you are a pedestrian and you are injured in an accident with a car or truck, you must file an insurance claim to cover your injuries unless they are particularly serious (namely, if you suffer "significant and permanent" harm). If you do not have PIP coverage, you have the right to file a claim with the insurer of the driver who struck you. This applies regardless of whether you were walking, sitting, riding, or lying down.
Call A Tampa Pedestrian Accident Attorney
Some people who have been injured in pedestrian accidents think they may not be able to recover damages because they were riding, rather than walking. However, Florida law includes more than just walkers in its definition of 'pedestrian.' The Tampa pedestrian accident attorneys from the Rinaldo Law Group can offer dedicated and compassionate representation at what can be a difficult time for you and your family. We are happy to try and assist you – call us today for a free consultation.
Resource:
leg.state.fl.us/statutes/index.cfm?App_mode=Display_Statute&Search_String=&URL=0300-0399/0316/Sections/0316.003.html