Florida Leads U.S. In Unsafe Metro Areas For Pedestrians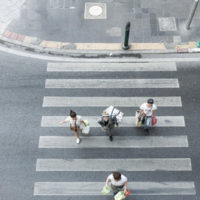 There are a lot of pedestrians in Florida, given its tourism numbers and its beautiful weather year-round. However, multiple studies have ranked Florida as a decidedly unsafe place to be a pedestrian. Whether due to the volume of traffic, to poor urban planning or something else, statistics have consistently ranked Florida as a less safe place to walk or bicycle – and, as one might imagine, the number of pedestrian accidents in Florida is higher than in other places, as well. If you have been involved in an accident while walking or riding, you may be able to seek compensation for your injuries.
Statistics Show Grim Trends
The think tank Smart Growth America publishes the Dangerous By Design report every few years, with the last publication being in 2016. It cites statistics that show the most dangerous states and metropolitan areas for pedestrians, as well as trying to analyze why the danger may be so real for those who walk and bike around cities. If one examines the metropolitan areas' data, one can see that 8 of the top 10 are in Florida, with Tampa coming in a worrying seventh. Cumulatively, this is reflected in the state data, where Florida's Pedestrian Danger Index is a staggering 177, with the next most dangerous state, Alabama, coming in at 136.6.
Part of the reason for Florida's dangerous metro areas can be explained by demographics, though more issues play a role. Metropolitan areas are home to disproportionate numbers of people of color, and also to the poor. Poor neighborhoods, which tend to be more populated by people of color, have some of the most dangerous, decaying infrastructure, including a lack of public transit. More people walking out of necessity equals more people being involved in accidents. Older people (those over age 65) are also overrepresented in the study's findings, and given that approximately 20 percent of Florida's population is over that age, it seems reasonable to draw a correlation.
If You Have Been Injured
While many times, pedestrians get blamed for accidents between them and automobiles, in reality, drivers are often the negligent party. Pedestrians simply are not as visible as autos, especially in areas where infrastructure may be lacking (thus, streetlamps may be out of order, road signs may have fallen down, and the like). Distracted driving is also a culprit in many instances; Florida ranks among the worst in that area as well. If you are injured and you believe that the negligence of an auto driver might play a role in the harm you suffered, it may be in your best interests to bring suit, so that you have a chance at having your medical bills paid.
It is also important to keep in mind that pedestrians do not have to worry about Florida's no-fault system; an injured pedestrian or bicyclist can avail themselves of the insurance belonging to the driver that hit them. However, if the driver carries only the minimum $10,000 in bodily injury liability insurance, that will often be a drop in the proverbial bucket when it comes to paying medical bills. Bringing suit may be a better idea, especially if your injuries are severe, so that you can have a better shot at getting more covered.
Contact A Tampa Accident Attorney Today
Pedestrian accidents can be devastating. If you have been injured in a pedestrian accident, contacting an attorney can be a good first step to getting your life back on track. The Tampa pedestrian accident attorneys at the Rinaldo Law Group are ready and willing to sit down with you and help you determine how best to proceed with your case. Call us today at 813-831-9999 for a free consultation.
Resource:
sun-sentinel.com/news/transportation/fl-reg-florida-second-most-distracted-20170412-story.html
https://www.tampainjuryaccidentlaw.com/reckless-teen-driver-kills-mother-toddler-crossing-the-street-in-tampa/