What Are Non-Economic Damages In Florida Personal Injury Suits?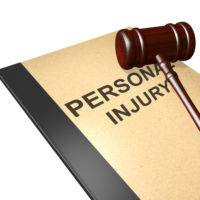 If you are involved in any kind of accident, and you believe that it happened because of the negligence of another person, you have a right to try and seek compensation for the injuries you have suffered. However, the concept of damages confuses many people; in Florida they are grouped into economic and non-economic damages, which are very different, with different requirements before they can be awarded. If you have a personal injury case, it is a good idea to make sure you understand the types that you might be eligible for.
Different Types
Economic damages are the tangible costs associated with going through an accident. Examples under Florida law include medical and funeral expenses, lost wages, costs of repairs and construction, and "any other economic loss that would not have occurred" if the injuries and accident had not happened. The key word is 'economic' – directly related to monetary expenses or income that are guaranteed to exist. For example, an injured person's lost future wages might not have a quantifiable number, but the person would definitely have been paid wages by an employer had they been able to work.
Economic damages are most often covered by a person's private insurance, more specifically by the personal injury protection (PIP) coverage that every Florida automobile driver is required to have. State law mandates that each Florida driver must carry at least $10,000 in PIP coverage and $10,000 worth of property damage liability coverage, and it is this amount of coverage that will be used up first in terms of paying for economic losses. However, this is not true for other, less tangible losses.
Non-Economic Damages Matter
Compared to economic damages, non-economic damages are more difficult to pin down, because they are not tied to any tangible expense. Examples include pain and suffering, loss of consortium (loss of marital relations and companionship), and loss of quality of life. Non-economic damages are extremely subjective and must generally be decided on a case-by-case basis – no real formula exists to arrive at an appropriate amount, even though in some cases the greatest losses may be non-economic.
It is also important to keep in mind that Florida, as of this writing, has no cap on non-economic damages. In other states, there is a maximum amount that can be awarded by a jury for the intangible losses like pain and suffering. These caps were formerly in place in Florida, but after medical malpractice and wrongful death cases were un-capped, personal injury law was amended to eliminate the cap entirely. If you have a case where non-economic damages are appropriate, there is no upper ceiling for how much you can, in theory, be awarded.
Call A Tampa Personal Injury Attorney
When you bring a personal injury suit, you want compensation for both the bills you have incurred and the frightening experiences you have weathered. Having a Tampa personal injury lawyer on your side can improve your chances of making that happen. The Rinaldo Law Group has years of experience in helping injured victims – call us today for a free consultation.
Resource:
leg.state.fl.us/statutes/index.cfm?App_mode=Display_Statute&URL=0700-0799/0768/Sections/0768.81.html
https://www.tampainjuryaccidentlaw.com/what-is-loss-of-consortium/